---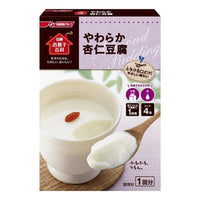 Sale
Nisshin Annin Tofu Instant Mix to make "hand made" Annin Tofu easily and quickly at home.
Annin Tofu is originally a chinese dessert made with apricot kernel milk, agar and sugar, and it is like the asian version of blancmange.
It is mildly sweet and has special kind of savory aroma.
It has been popular in Japan for a long time and Nisshin also has developed their own tasty and melting Annin Tofu.
The name tofu refers to the tofu-like texture of this dessert. Soy beans (main ingredient of tofu) are not used to make Annin Tofu.
DIRECTIONS OF USE:
Add the mix, 150cc of milk, and 100cc of water into a pot and stir well until the mix completely dissolves.
Heat the pot with middle heat and turn off when it gets to a boil.
Add 100cc of milk and stir again.
Pour the content of the pot into cups or bowls and cool them down in a refrigiator for more than 1 hour and it's ready to eat.  
PRODUCT DETAILS:
Contents 60g
Made in: Japan